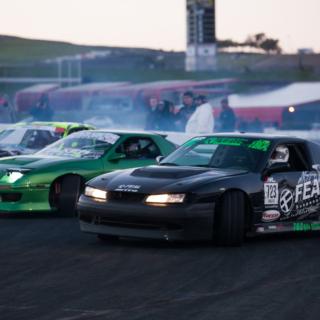 Monday December 10, 2018
Northern California's largest drifting festival returns to Sonoma Raceway for two days of high-speed action this weekend at Winter Jam, Dec. 15-16.
Winter Jam, hosted by Sonoma Drift, will take over six different locations around the facility, including two courses in the main paddock and courses at Turns 2-4, Turn 7, through the Esses of Turn 8 and around the hairpin at Turn 11 of the 12-turn road course.
Recent Headlines
12/10/18

More than 300 Sonoma Valley children enjoyed a festive day under sunny skies at Sonoma Raceway on Saturday at the 14th annual "Race to the Holidays" Children's Christmas Party.

12/04/18

Sonoma Raceway will celebrate 50 years of racing during its 2019 race season, as the motorsports facility hosts a full slate of on-track activity while looking back at its incredible history in the Sonoma Valley.

12/03/18

More than 1000 students from across the Americas expected to compete their student-designed and built ultra energy-efficient vehicles

11/29/18

If low-budget endurance racing is up your alley, you won't want to miss the 24 Hours of Lemons' Arse-Freeze-Apalooza at Sonoma Raceway this weekend, Dec.1-2.